Today's Blog Every Day in May topic is favourite books. Asking me to choose these is like asking me to choose a favourite friend or relative; almost impossible. My taste in books has changed a lot over the years (I've been really into non-fiction for a long while, but my first true love is literature) and I think that what you enjoy reading really does depend on your mood or interests at the time.
One of the books that really stole my imagination was The Great Gatsby, which I studied for A-level (this is a contentious issue in my household, with frequent discussions about its literary merit and how dull it is/ISN'T).
So it's with equal amounts of excitement and trepidation that I'm awaiting the release of the Baz Lurhman directed version, especially seen as I love the 1970s Robert Redford and Mia Farrow version. It looks visually stunning, if not a tad melodramatic(?)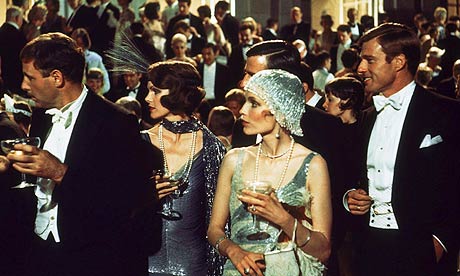 Gatsby's sense of hopelessness, of living a fantastical life but never quite being able to outrun your past and longing for lost love was really quite tragically and romantic to a 17 year old me.
And Gatsby opened me up to more Fitzgerald – the flappers in This Side of Paradise, explorations of madness in Tender is the Night and short stories like the Curious Case of Benjamin Button – and his wife Zelda (whose quote "she refused to be bored chiefly because she wasn't boring" is something I try to live by). Between them they sum up everything about the 'jazz age' of America in the roaring 20s; glamorous but with an honesty about its darker edges that was so pervasive in their own lives.
What kind of books do you like reading? Do you think they would make good films?